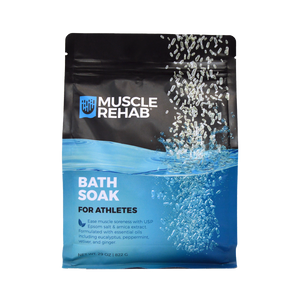 Bath Soak for Athletes
Sale price Price $18.99 Regular price
Ease muscle soreness and speed recovery with USP Epsom salt & arnica extract. Formulated with essential oils, including eucalyptus, peppermint, vetiver, and ginger. Pure essential oils provide an aromatherapy experience. Works in warm or cold water, dissolves easily.  Works well for sore joints too!
Muscle Rehab Ingredient Benefits:
USP Epsom soothes and comforts.
Arnica helps to relieve feelings of fatigue and tiredness.
Eucalyptus refreshes the body while providing a natural aromatic scent.
Clary Sage helps to relax and calm.
Vetiver gives a feeling of coolness to the body.